Footballprogrammes.biz
is the online home of West London Football Programmes established in 1994 in Middlesex.
We have a vast stock of Football Programmes covering all major clubs and most minor, all found via a very easy search facility.
Searching
The most popular search is by club, simply type in your team and you will see all the items we hold, with details as to condition (only where there are issues)
England, Scotland and all other countries play at many home grounds and in tourneys, so search for all games to see a full list of Homes and neutral grounds. You can also search by competition and by match type, so for instance Fac and Semi finals, to get a full list of those games.
Stock Position
This changes from day to day, but has grown constantly and there are now over 60,000 different items, all carefully listed with information as to condition.
Payment Options
We offer a range of payment options, but suggest using our paypal link, because this is quicker, easier for both parties and if we owe you money, its very simple to get it back to you.
We use paypal so you do not have to give your credit card details to us, It is more expensive than other methods but more secure for you.
Payment by cheque is accepted, but with a minimum order of £15, otherwise the cost of cashing your cheque is too high to cover. Due to the time taken to process cheques, orders paid for by cheque can take up to 10 days to dispatch.
Postage charges are very hard to estimate using an automated system but we will refund all excess as quickly as possible, especially if you use paypal.
A few notes on our Football Programme listings
Non-League collectors can search the database by typing in the team name. If you are having problems finding your team, please email us.
In the listings you will find different symbols in the condition and notes field. Put your cursor on these and they will give you details. Or you can click on info and get a full breakdown in a separate window.
Selling your collection?
Hit the
selling

button and email us as much information as possible. If the details are in a document such as a word file, or excel spread sheet, then let us know and we will send our email address.
Please be aware that unless of specific interest you are unlikely to get an offer from us for recent seasons, we look for pre 1970 collections and offer a competitive price.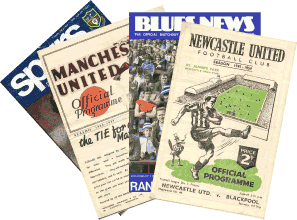 Find football programmes by team
Looking for a specific programme?
Featured football programmes